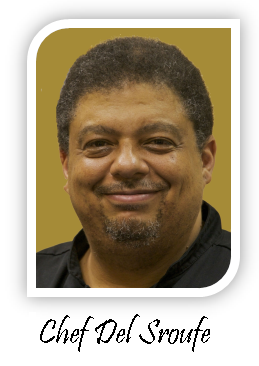 Del's cooking career began when he was just eight years old; creating dishes from whatever he could find in his father's kitchen. By age of thirteen he was flaunting his culinary talents by preparing family dinners, much to his mother's delight. After high school Del shelved his love for the kitchen and sold men's clothing while he attended The Ohio State University School of Business. Selling suits and ties did not polish Del's wing tipped shoes so he set out to pursue his passion, cooking. He landed a position at one of Columbus, Ohio's premier vegetarian restaurants, The King Avenue Coffeehouse, and began to establish himself as a leader in the industry.
In 1997 Del opened his own bakery, Del's Bread, where he created, prepared and served delicious vegan pastries, breads, potpies, calzones, smoothies and other sorted delicacies to the palate of his Columbus based clientele. In 2001, Del transitioned from his bakery business to start a vegan Personal Chef Service, preparing eclectic plant-based cuisine to his already captivated audience. During this time, he developed what became a very popular cooking class series, sharing many of the delicious recipes he had created over the years with his students.
In 2006, Del joined Wellness Forum Foods as Executive Chef, where today he continues the tradition of delivering great tasting plant-based meals to clients locally and throughout the continental United States. Del continues to teach cooking and health classes and is a keynote speaker at local venues and events around the country.
Del is the author of Forks over Knives: the Cookbook, on the New York Bestseller list for more than 30 weeks; Better than Vegan, the story of his struggle with weight loss and gain, and how he managed to lose over 200 pounds on a low fat, plant based diet and; The China Study Quick and Easy Cookbook due to be published in May of 2015.
More: https://chefdelsroufe.com/about-chef-del/