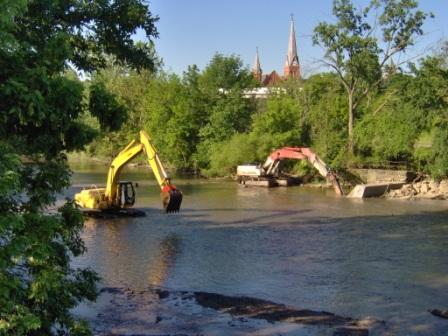 Removal of low-head dams on Olentangy River, near Delaware (2011). Source.
11th Annual Olentangy Watershed Forum 2014: Protecting and Restoring our Water Resources
Organized and Sponsored by

For the past 11 years, the Olentangy Watershed Forum has connected citizens and experts who wish to explore issues that impact the quality of life in the watershed.This year's agenda is filled with professionals who will speak on topics pertaining to the protection and restoration on the Olentangy Watershed. Confirmed speakers include:
Tom Curtin: Preservation Parks' Initiatives in the Olentangy Watershed
John O'Meara: MetroParks' Olentangy Trail Expansion
Ben O'Dell: USACE's Delaware Dam Management Issues
Plus reports from the Olentangy Watershed Coordinators, Del-Co Water and Preservation Parks.
After a networking lunch, you can go on a canoe tour of the scenic Olentangy River or take a tour of the Olentangy Caverns.
This forum is for local residents, water resource professionals, township officials, landowners, and farmers who want to learn about water quality issues in the Olentangy Watershed and what effective planning strategies can be employed.
When: Thursday, October 16th, 2014 from 9:00 am – 3:10 pm. Doors open at 8:00 am. Where: Del-Co Water, 6658 Olentangy River Road, Delaware, Ohio 43015
Come and get an update on all the initiatives in the Olentangy River. Why is this important? The river serves as our drinking water supply, provides recreational relief from the urban environment and is an essential link for wildlife survival. The more you know, the more you can help protect the Olentangy.
Forum Specifics: There is no cost to attend the Forum thanks to our event sponsors. However, registration is required and seating is limited. Walk-ins will be accommodated if space is available. Lunch will be provided.
Registration: Pre-registration requested by Monday, October 13th. For more information or to register, please contact Erin Thomas at ethomas@delcowater.com or 740-548-7746 ext 2221
Press Contact: Laura Fay
Secretary, Friends of the Lower Olentangy Watershed
614-580-2656