Michael Durfee, an Environmental Studies and Medieval Studies dual major, was awarded an OWU Theory into Practice grant to travel to Morocco during the summer of 2015 to study sustainability and olive agriculture.
Olives and Sustainability: A Traditional Setting in Marrakech, Morocco
Objective:
Behind this project lies the theory that traditional ecological and agricultural knowledge and practices are naturally more sustainable and beneficial for the environment and human health. Traditional societies, if we listen, can offer the Western world ways to combat issues with the environment and sustainability. The olive tree and its fruit are hardy and versatile, and Morocco is a place that requires it. The benefits of using olives and their products are endless. Marrakech has been growing olives for hundreds of years and is of great importance in the diet, agriculture and economy of the people. I will investigate the sustainable aspects of the olive and the production and sale of food and trades material as done in a traditional society.
Description:
As negative environmental consequences of human activity become alarmingly evident, sustainable alternatives to current practices grow in importance. Sustainable alternatives are found in traditional communities around the globe. These communities have ingenious approaches to living sustainably, having adapted their strategies to work well with the environment, not against it.
Traditional Ecological Knowledge (TEK) is the collectively owned and shared knowledge of people whose everyday lives depend on and/or support good land stewardship and species and environmental conservation. These people understand firsthand that biodiversity and environmental health are synonymous with human health. TEK can be found in proverbs, folklore, language, local trades, agricultural practices and conservation, dietary choices, commercial purchases and general mindset.
In order to understand the role of TEK in modern sustainability efforts, I will investigate the olive in Morocco. I will explore the practices of olive growing, processing and marketing within their environmental and sustainability context. Morocco's High Atlas region and the ancient city of Marrakech is a prime region for olive production. My intentions in Marrakech are to trace the environmental impacts of olives and other produce growing, processing, transport to market, and consumption. To document the "farm-to-table" process in a more traditional society, I will visit several urban markets, bazaars and local restaurants in the city and as many olive groves and olive oil mills as possible.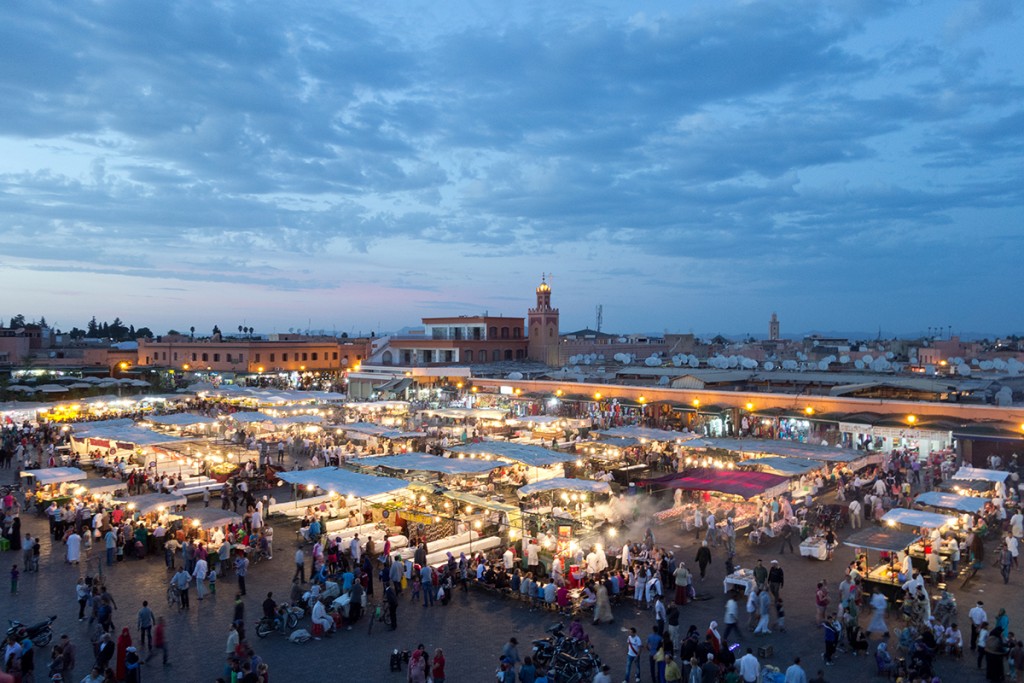 Image: Fresh food markets in the Medina
As traditional knowledge is found throughout a society, I will supplement my focus by investigating local trades like smithies, tanneries, carpet makers, vineyards, and bakeries. I will get my hands dirty volunteering at these places. During two separate two-week periods, I will put theory into practice by living and volunteering at farms, immersing myself in the world of the olive. The first period I will participate in WWOOF (World Wide Opportunities on Organic Farms) at an organic farm near northern Morocco. My stay there is confirmed with the owner. I will determine my second volunteering experience while in Morocco (as the most traditional places have no internet presence) based on contacts I have made in Morocco.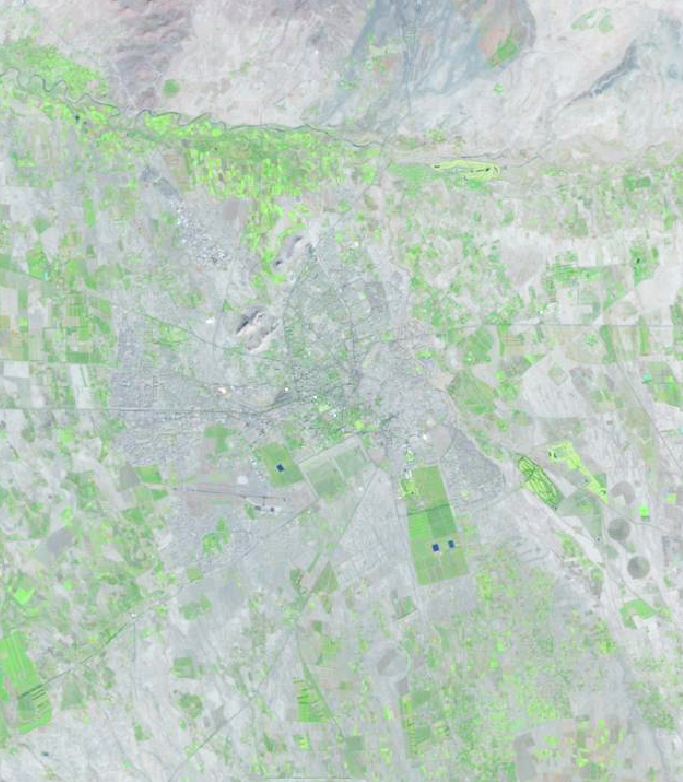 Image: Landsat Satellite Image of Agricultural Areas Surrounding Marrakech, Morocco.
TEK can be found in the Developed World. We find it in Delaware County in small businesses like the Delaware Community Market, Stratford Ecological Center and the Glass Rooster Cannery. Their sustainable methods and are in many ways a reinvention of traditional practices. I plan to compare my experiences in Morocco with practices in central Ohio in order to gain a better understanding of both locations while providing insights into how to better integrate traditional practices in a modern, Western setting.