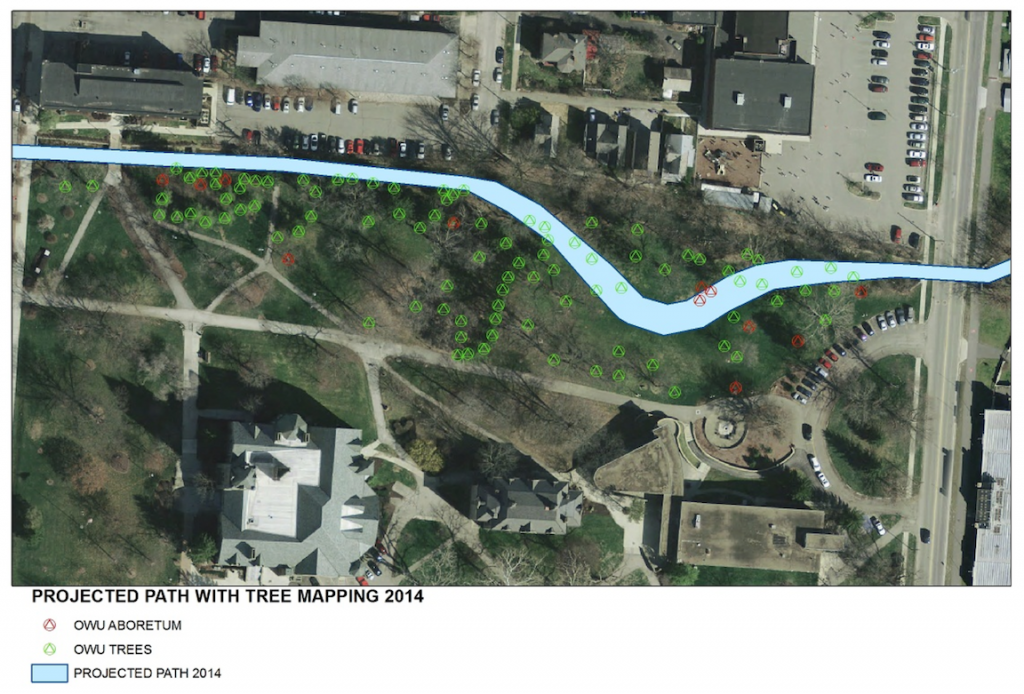 Above: Map from a student research project proposal to restore and re-naturalize Delaware Run adjacent to Ohio Wesleyan's Campus (2014).
The Environmental Studies major at Ohio Wesleyan provides a broad, cross-disciplinary approach to the environment, encompassing the natural and social sciences, arts, and humanities. The program consists of nearly 50 courses taught by over twenty faculty throughout the university.
The Environmental Studies Program at Ohio Wesleyan shares its broadest goals with the University, a devotion to a broad yet integrated approach to a liberal arts education, the development of leadership capabilities (through diverse and integrated learning), and service. Environmental Studies majors are exposed to ideas across the liberal arts curriculum in diverse pedagogical formats including lecture, laboratory, seminars as well as the field and library research and an intensive exposure to the digital world. Perspectives gained are interdisciplinary and range from local to global and emphasize the management and solution of environmental problems and development of a sustainable way of life. When the Environmental Studies major is combined with a traditional liberal arts major the student is well equipped for leadership, service, and continued learning in a world where environmental issues are of vital importance. Regardless of the path chosen by Environmental Studies majors after they graduate, they are well versed in translating their liberal arts education into their career and life experience.
More information on Environmental Studies at Ohio Wesleyan.